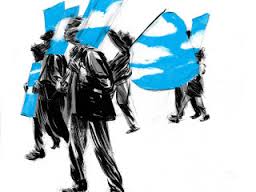 Pianist Brianna Matzke and violinist Hajnal Pivnick present the Chicago premiere of the Bells from the Abyss.  The new work for violin and piano was commissioned as part of Matzke and Pivnick's Response Project inspired by Killer Mike and Stephen Colbert.
Du Bois was asked to write a work in response to one simple phrase: ON BEHALF. The phrase "ON BEHALF" was drawn from an exchange between Killer Mike and Stephen Colbert on The Late Show.
Du Bois was invited to consider how this phrase impacts her personally, politically, and/or artistically, as well as potential manifestations of the phrase within musical composition and performance. The new work is intended to speak "on behalf" of an idea, person, community, or condition.
This work and the music of du Bois in general stands as an unabashed protest against the mind-blowing lack of regard for all human life, against eradication of decency, and against whole-hearted propagation of extant hate the Trump-Bannon administration represents.
It stands against intolerance, oppression, hatred, recklessness, destruction, murder and war. Every single vibrates against hate. All construction is based on the creation of hope, tolerance, empathy and compassion. Art as a sanctuary for all ears.
More information and venue to be announced.